All complete results of the CSI-W London (Great Britain) with all information on the participating horses and riders you can find here: www.hippomundo.com/results/competition/576?edition_id=30860
WORLD'S BEST LEAD THE WAY AT OLYMPIA
Media Release: 14 December 2017
OLYMPIA, THE LONDON INTERNATIONAL HORSE SHOW DAILY REPORT
Britain's leading lady rider Laura Renwick put on a spectacular performance to win The Cayenne Puissance in front of a packed-out grandstand with HRH The Duchess of Cornwall as the guest of honour in the Presidents Box.
The afternoon session saw Spaniard Eduardo Alvarez Aznar speed to victory in the opening CSI5* Show Jumping class of the Show, with Australia's Boyd Exell dominating the Dodson & Horrell Extreme Driving Top Score. The popular Kennel Club Dog Agility returned, with a win for Tracy Moerel and Deutschlander Schnappss in the ABC Dog Jumping Grand Prix and there was an emotional arena appearance by Show charity mascots Teddy and Doris, representing Hannah's Willberry Wonder Pony Charity.
HRH The Duchess of Cornwall was present to enjoy an action-packed evening of top-class sport and equestrian entertainment, taking to the arena to present the awards for the Musto Inside Edge Stakes, won by Peder Fredricson, accompanied by European gold medal winners Tina Cook and Sophie Wells. The highlight of the evening, The Cayenne Puissance, was a closely contested affair, with Laura Renwick taking the eventual spoils as the only rider to clear the final 7' 3" wall.
---
LAURA IS TOP DOLLAR
Laura Renwick was overwhelmed by her spectacular victory on Top Dollar Vl in The Cayenne Puissance. Four riders made it to the fifth round, but Karline De Brabander from Belgium on Fantomas de Muze, Ireland's Padraic Judge on City Business and 2016 joint winner Holly Smith on Quality Old Joker all faulted and as Laura entered the ring she knew the €7,425 prize was there for the taking.
"That wall is huge and, having seen the other horses hit it, having been jumping really well, I knew it was a big ask," said Laura afterwards. "I was a little bit lucky – I didn't have the best stride and the horse really had to use his body to get over it.
"I've never won the Puissance outright and so to do it on an eight-year-old horse with not much experience but loads of scope and heart feels amazing. The atmosphere was electric."
Earlier in the day, Eduardo Alvarez Aznar riding Fidux headed a one-two for Spain in the opening jumping class, the Santa Stakes, holding off a late challenge from his fellow countryman Manuel Fernandez Saro (Cannavaro).
"I was early to go, and Manuel was right at the end. He knew what he had to do but wasn't quite quick enough," joked Eduardo, winner of last season's Zurich Longines FEI World CupTM qualifier with Rokfeller de Pleville Bois Margot. "[Fidux] is a real fighter and very quick across the ground."
This is Eduardo's second visit to Olympia, where he won the Six-Bar two years ago. "It's such a fantastic special show, and a pleasure to ride here," said Eduardo. "I hope to continue to back here for many, many years."
Later, there was a Swedish one-two in the Musto Inside Edge Stakes, a speed class, when 2017 European Champion Peder Fredricson (H&M Zoulbet) beat compatriot Malin Baryard-Johnsson (H&M Second Chance) by 0.77sec to clinch the top prize.
---
EXELL IS ON A ROLL
The Dodson & Horrell Extreme Driving Top Score competition may act as a warm-up to the FEI World CupTM qualifier, but the crowd was treated to a razor-sharp contest. Of the seven drivers, representing six nations, no-one was prepared to give any quarter, but it was reigning FEI World CupTM Champion Boyd Exell from Australia who again proved unassailable.
Exell, a seven-time FEI World CupTM Champion, already has three qualifier wins under his belt this season. The last driver into the arena, he was one of only two to post a clear round; the other came from Belgium's Glenn Geerts, but he trailed Exell by some seven seconds.
Exell had a new inexperienced horse in the lead and explained: "He was a bit tired in the second round but he did all I asked of him. I love competing at Olympia - the atmosphere is always superb; it's like coming home for me."
---
PICTURE OF THE DAY
Willberry Wonder Pony miniature Shetland mascots Teddy and Doris gracing the arena for a special 'Willberry Moment', in memory of Hannah Francis.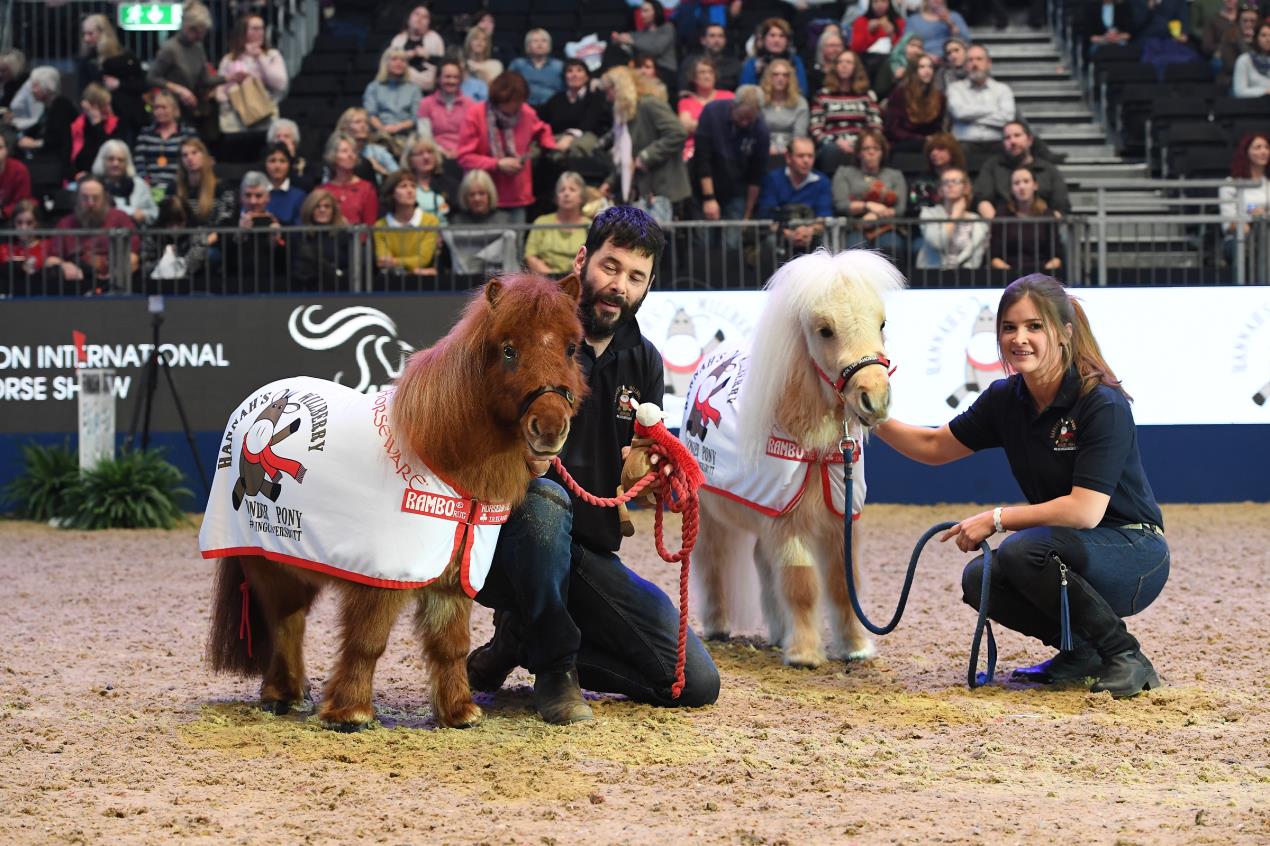 ---
WHAT TO LOOK FORWARD TO TOMORROW
FEI World CupTM Driving Leg
CSI5* Show Jumping, including the The Snowflake Stakes, the Levy Restaurants Snowman Stakes and the Christmas Cracker
The Markel Champions Challenge in aid of the Injured Jockeys Fund, featuring AP McCoy and Frankie Dettori
Tickets for Olympia, The London International Horse Show, are still available for some performances. To book go to www.olympiahorseshow.com.

​